Renowned sports-shoe maker maintains leading-edge market position with FEA
Sports shoe manufacturer ASICS Corp. reduces the number of physical prototypes and curs product development time 35 percent with Femap from Siemens PLM Software. The company also reduced CO2 production emissions and used CAE analysis results to create images and movies for organizational collaboration and product marketing purposes.
Continuous commitment to CAE for a quarter of a century
ASICS Corporation, Institute of Sport Science (ASICS) is very popular in the sports footwear market. This includes both the general consumer and running shoe segments, where ASICS is among the market leaders. The popularity of ASICS shoes is largely based on their superior functionality, which can be directly attributed to the company's continuous efforts to improve shoe performance.
One of the major contributors to improved shoe performance has been the aggressive use of computer-aided engineering (CAE). At ASICS, serious commitment to simulation began around 1987. For 25 years, ASICS professionals – both CAE specialists and other engineers/researchers – have actively utilized various analysis tools. Among these tools, the most significant contributor to performance enhancement has been the use of Femap™ software with NX™ Nastran® software.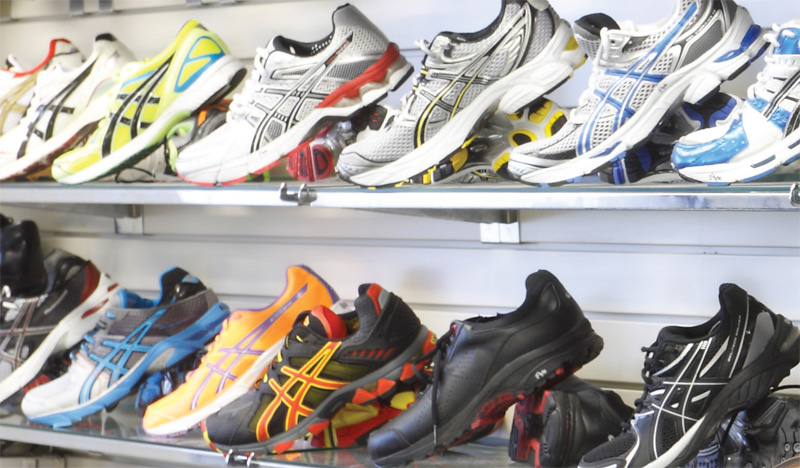 The CAE effort is led by Dr. Tsuyoshi Nishiwaki, Fellow and senior general manager of ASICS Institute of Sport Science. Since joining ASICS, Dr. Nishiwaki has strived to implement and deploy the best CAE tools across the product development process. Before devoting his time to shoe development processes, Dr. Nishiwaki worked on analyzing sporting goods, such as tennis rackets. Dr. Nishiwaki is not only experienced in the use of CAE software, he has personally developed a numerical model that represents the mechanical properties of composite materials.
CAE as a decision-making tool for development direction
Through experience, Dr. Nishiwaki has observed that CAE software is a great tool for decision-making across a number of areas, especially for development direction. He points out, for example, that because of the use of 3D computer-aided design (CAD) in conjunction with Femap with NX Nastran, ASICS has reduced and continues to reduce physical prototypes per project. He also notes that reducing CO2 emissions is now becoming an important issue at the corporate level, as well as for virtually every manufacturer today. By using CAE early in the development cycle, the production of physical prototypes is significantly reduced, as are CO2 emissions. "Using CAE effectively to decide product development direction, we estimate we are shortening turnaround by 30 to 35 percent for general development projects," says Dr. Nishiwaki.
Many CAE users focus on how well analysis results match with experimental results. According to Dr. Nishiwaki, for purposes of shoe design, it is a rare case to have exactly the same results. To do so, all of the required information, such as material properties, constraints and loads must be completely known. This is particularly true for products like sports shoes, which require factoring in certain physical conditions of the human body, although much of that information is highly variable or unknown. For example, muscle flexibility/stiffness often varies as a person's mental state changes. So even if just one of these characteristics is unknown, that often means that one cannot obtain a highly accurate result.
Nevertheless, Dr. Nishiwaki emphasizes how critical it is to use CAE tools to capture the impact of design on shoe performance, explaining that simulation can provide special insight on the design of a shoe's sole, enabling important decision-making data regarding overall performance to be captured in the early phases of development. According to Dr. Nishiwaki, it is just this type of use of Femap with NX Nastran that has enabled ASICS to reduce product development time by 30 to 35 percent.